All Are Welcome
---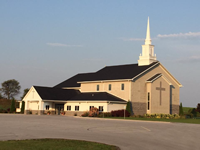 MISSION STATEMENT:
We are a caring community of Christians living our faith through worship, fellowship, study and service to others.
Upcoming Events

---
Sunday, October 2 - Bethlehem Mission Fest Sunday
Our Mission Sunday is dedicated to serving our community. Service activity ideas include:
• Making cards
• Picking up litter along HWY X
• Cleaning up the church grounds
• Making sandwiches for Salvation Army
• Activities with residents at Field of Dreams
Bethlehem's famous chili will be served for lunch
Sunday, October 9 – CROP Walk
Sunday, October 16 – Church Picnic w/Outdoor worship
Gathering for worship in our sanctuary has resumed. Parking lot worship as well as viewing Sunday services from the comfort of your home through Facebook live stream http://www.facebook.com/bucckiel/ or Bethlehem's website.
---
You can subscribe to Bethlehem's weekly "Blurb" email by messaging randynmel5@gmail.com and asking to be added to the email list.