All Are Welcome
---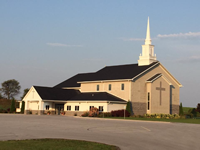 MISSION STATEMENT:
We are a caring community of Christians living our faith through worship, fellowship, study and service to others.
Upcoming Events


• Annual Chili Supper - Wednesday, February 1 - 3:00 - 6:30 p.m. Drive-thru and pickup only
• UCC Rural Church Fellowship Presents SHEEPSHEAD TOURNAMENT - Sunday, February 5, 1-3 p.m. (Doors open at 12:30) - at Bethlehem UCC - Entrance Fee: Canned goods or freewill offering to benefit local food pantries
Dear Brothers and Sisters in Christ,
Bethlehem United Church of Christ in Kiel is partnering with the ADRC (Aging and Disabilities Resource Center) of Manitowoc County to offer this course on fall prevention. If you are willing, please add the following announcement to your bulletins and/or use the attached files as posters for the event.  
Upcoming In-Person Class
Do you have a fear of falling or losing your balance?  The Aging & Disability Resource Center of the Lakeshore, along with Bethlehem UCC Church is offering Stepping On, a 7 week workshop, beginning Thursdays, April 13th-May 25th from 1:00-3:00pm. Trained leaders and community professionals guide you in recognizing your risk of falling by identifying fall hazards in the home and community, help you build the balance, strength and practical skills you need to avoid a fall, how to safely get up from a fall, identify vision, footwear and medication management risks, and how to manage safely in inclement weather.  The cost is a suggested $10 donation.  Please contact the Aging & Disability Resource Center of the Lakeshore at 1-877-416-7083 for more information or to register. 
Your partnership is appreciated. 
In Christ,
Pastor Randy Koppenhaver
Bethlehem United Church of Christ - Kiel, WI


Gathering for worship in our sanctuary has resumed. Parking lot worship as well as viewing Sunday services from the comfort of your home through Facebook live stream http://www.facebook.com/bucckiel/ or Bethlehem's website.
---
You can subscribe to Bethlehem's weekly "Blurb" email by messaging randynmel5@gmail.com and asking to be added to the email list.