All Are Welcome
---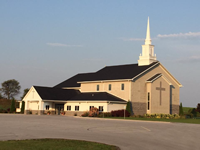 MISSION STATEMENT:
We are a caring community of Christians living our faith through worship, fellowship, study and service to others.
Upcoming Events

Sunday, December 10 – 3:30 p.m. – "Sing Joy" a concert by the United Christmas Choir – The 50+ member choir has members from four area UCC churches, including Bethlehem's Kathy Bowe, Lora Mathes, Marie Mueller, Rick Rabe, and Pastor Randy. The concert will be held at St. Peter's UCC in Kiel.
Sunday, December 17; 9:30 am – Third Sunday of Advent Children's Christmas Program
Thursday, December 21; 7:00 pm – Blue Christmas Service
Sunday, December 24; 9:30 am – Fourth Sunday of Advent Service
Sunday, December 24; 7:00 pm – Christmas Eve Stories & Candlelight Service
Monday, December 25; 9:30 am – Christmas Day Communion Service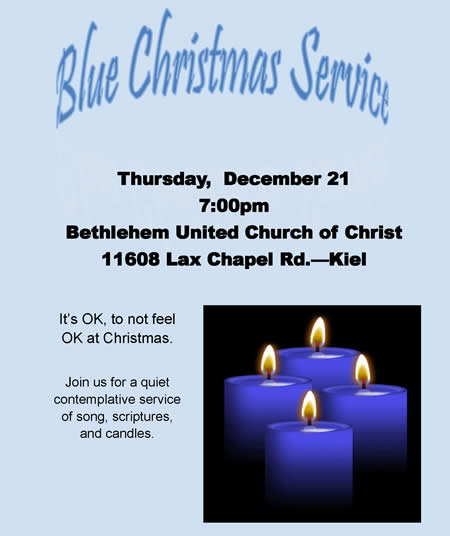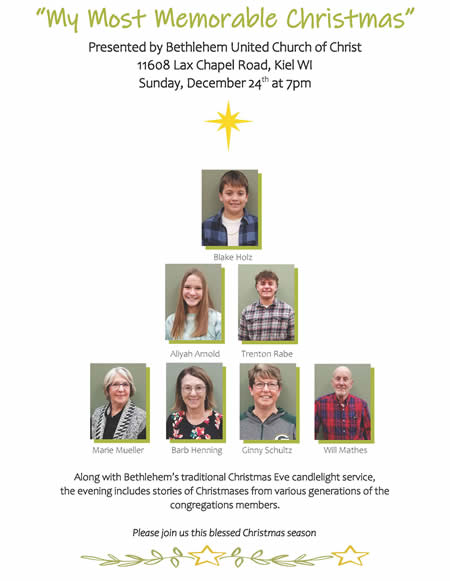 Gathering for worship in our sanctuary has resumed. Parking lot worship as well as viewing Sunday services from the comfort of your home through Facebook live stream http://www.facebook.com/bucckiel/ or Bethlehem's website.
---
You can subscribe to Bethlehem's weekly "Blurb" email by messaging randynmel5@gmail.com and asking to be added to the email list.