All Are Welcome
---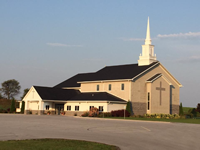 MISSION STATEMENT:
We are a caring community of Christians living our faith through worship, fellowship, study and service to others.
Upcoming Events

---
Dear Members and Friends of Bethlehem UCC,
After careful consideration the consistory and your pastoral leadership team have decided to suspend all activities until further notice. All of our schools are closing and so we think we should follow suit. We are working to record a shortened Sunday service, which we will make available in as many ways as possible. All Sunday and mid-week activities are cancelled right now. Our hope is that everyone will stay safe and healthy as we wait for the all-clear on this virus. We can continue to stay connected through email, Facebook, our website and phone calls. May we continue to pray for one another and our world during this time.
In your service,
Pastor Randy and your Consistory
Things you can do:
Pray for one another
Send a note to folks in health care facilities, many of them are on lockdown
Give one another a call and stay connected

---
Please fill in your email address below and click the Sign Up button to start receiving the Bethlehem Blurb electronically.