All Are Welcome
---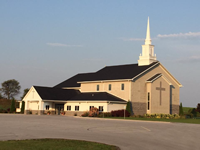 MISSION STATEMENT:
We are a caring community of Christians living our faith through worship, fellowship, study and service to others.
Upcoming Events

• Been attending a while, but not a member? Bethlehem will be holding a "New-Member Sunday" on May 21 from 8-9 a.m. for a brief "class" and discussion about Bethlehem. New members will be "installed" during the 9:30 worship service. Please let Pastor Randy know if you are interested in joining.
Gathering for worship in our sanctuary has resumed. Parking lot worship as well as viewing Sunday services from the comfort of your home through Facebook live stream http://www.facebook.com/bucckiel/ or Bethlehem's website.
---
You can subscribe to Bethlehem's weekly "Blurb" email by messaging randynmel5@gmail.com and asking to be added to the email list.