All Are Welcome
---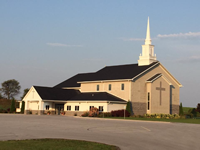 MISSION STATEMENT:
We are a caring community of Christians living our faith through worship, fellowship, study and service to others.
Upcoming Events

---
Dear Members and Friends of Bethlehem UCC,
After careful consideration the consistory and your pastoral leadership team have decided to suspend all activities until further notice. All of our schools are closing and so we think we should follow suit. We are working to record a shortened Sunday service, which we will make available in as many ways as possible. All Sunday and mid-week activities are cancelled right now. Our hope is that everyone will stay safe and healthy as we wait for the all-clear on this virus. We can continue to stay connected through email, Facebook, our website and phone calls. May we continue to pray for one another and our world during this time.
In your service,
Pastor Randy and your Consistory
Things you can do:
Pray for one another
Send a note to folks in health care facilities, many of them are on lockdown
Give one another a call and stay connected

OUTDOOR WORSHIP GUIDELINES
As we prepare for our Outdoor Worship Services, the Consistory along with Pastor Randy have chosen to follow the guidelines offered by the Manitowoc County Public Health Department, Grinnell Mutual (our insurance carrier), the WI Conference of the UCC, the WI Council of Churches, and the CDC.
Bethlehem UCC will be reopening on October 4, 2020 at 9:30 am for an outdoor/parking lot worship service.
The Consistory and Pastor Randy have spent many hours researching and planning safe worship options for Bethlehem members. Many safety procedures as well as sanitation practices must be followed so everyone continues to stay healthy and safe. We ask you to please follow these safety guidelines as follows:
PRIOR TO WORSHIP…
The day of the Outdoor Parking Lot Worship Service: Do a self wellness check. Please do not come to the outdoor worship service if you are not feeling well, have a fever, or experiencing symptoms of a cold, the flu, or allergies.
WHAT TO BRING WITH YOU…
• A mask that covers your nose and mouth. If you plan to sit outside please put it on before leaving your car. You may also want to wear a mask if you remain sitting in your car with the windows open. The CDC recommends individuals age two and older wear masks. Remember, if you plan to sit outside you will need to sit next to your car so you are able to hear the radio broadcast. You will need to provide your own lawn chair.
• Hand sanitizer for personal use, especially if you are taking a bulletin, receiving communion or giving your offering.
• A prepackaged communion set will be provided to you. This will include; a gluten-free bread and grape juice. If you have difficulty removing paper tabs from food products or vitamin bottles, you may have difficulty opening this and want to bring your own.
• Your offering for church will be collected by an usher when you leave the parking lot area. ALL loose change will go to monthly "Jingle Change" recipients. Any other giving going directly to Bethlehem should be placed in an envelope with your name.
WHEN YOU ARRIVE AT BETHLEHEM…
**NEW**Please enter south driveway and continue to the carport to 'check-in' with a Consistory member, receive your bulletin and/or communion packet. Offering will also be collected at that time. You will then be directed where to park your car.
• Park on the East side of the church. Worship will be held at the carport-door entrance via FM Radio Station - 101.3. There will be Consistory members to assist and give direction.
• Consistory members will take attendance.
• Scrip will be available for purchase before and after worship. We ask that when purchasing scrip cards that only one person at the scrip table at a time.
• The church will be open for restroom use only. The rules for social distancing remain in effect. Stay a minimum of 6 feet from each other and wear a mask that covers both your mouth and nose. Please remember - we all MUST remain vigilant in our safety practices.
Please do not come to the outdoor worship service if you are not feeling well, have a fever, or are experiencing symptoms of a cold, the flu, or allergies.
Consider following the Manitowoc County Public Health Department recommendation for high risk individuals. If you or a family member have any underlying health concerns, please use your best judgement in attending the outdoor worship services.
OUR WORSHIP SERVICE WILL INCLUDE…
Prelude
Call to Worship
Opening Prayer
The Reading of Scripture
Message Song
Pastoral Prayer & The Lord's Prayer
The Celebration of the Lord's Supper (first Sunday of month)
Benediction
Postlude
We are excited to be able to offer you this outdoor worship service option and hope that you will be able to attend. Your cooperation in carefully following these guidelines to help keep each and everyone of us safe and healthy. Please stay tuned and watch for the weekly blurb and the monthly Spirit for the next planned outdoor worship service. If you have any questions, concerns or feedback please contact one of your consistory members. We look forward to worshipping together and seeing you very soon. God's blessings to each and everyone.
Pastor Randy and your Consistory
---
Please fill in your email address below and click the Sign Up button to start receiving the Bethlehem Blurb electronically.