All Are Welcome
---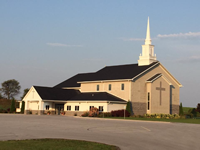 MISSION STATEMENT:
We are a caring community of Christians living our faith through worship, fellowship, study 0nd service to others.
Upcoming Events

---
October 10 - Crop Walk
October 19 - Reception for Pastor Roy
Gathering for worship in our sanctuary has resumed. Parking lot worship as well as viewing Sunday services from the comfort of your home through Facebook live stream http://www.facebook.com/bucckiel/ or Bethlehem's website.
Bethlehem Safe Indoor Worship Guidelines
• Masks = You decide what's best for you, your loved ones and those around you.
• Remain 6 feet apart from members outside of your family
• The congregation will refrain from singing (Humming is permitted)
• An offering plate will be available in a central location
• Please wait for an usher to dismiss you after the service.
• For those who wish to congregate, you are asked to do so outside
• Please stay home if you or a member of your family is not feeling well.
• Scrip will be available for purchase on the first and third Sundays. We ask that when purchasing scrip cards that only one person be at the scrip table at a time.
---
Please fill in your email address below and click the Sign Up button to start receiving the Bethlehem Blurb electronically.